Laser Limelight™ Facial (IPL)
Oasis Plastic Surgery owns the Cutera Xeo Laser Platform, the most versatile laser and light technologies on the market today, to address virtually every patient's needs.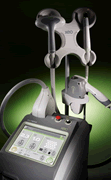 3D Skin Rejuvenation using a combination of TITAN®, Laser Genesis™ and LimeLight™
Skin Resurfacing with Pearl™
Skin Tightening with Titan®
Facial and Leg Veins with LimeLight™ and CoolGlide Excel® Vascular
Laser LimeLight™ Facial
Hair Removal with ProWave 770™ and CoolGlide®
LimeLight Facial™
The LimeLight Facial is a procedure that will treat their diffuse redness, dyschromia, telangiectasia, solar lentigines and rosacea with more precision – effectively decreasing the number of treatments. And, LimeLight can be used where you need it most – on the face, chest, arms and hands without gel or topical anesthetics. Treatment of Skin Redness, Tiny Veins, Brown Spots and Sun Damage
What is the LimeLight Facial?
The LimeLight Facial is a new, non-invasive approach to skin rejuvenation using Cutera's LimeLight. The procedure offers the advantage of improving skin tone and surface imperfections associated with aging and photodamage.
What areas can be treated?
The LimeLight Facial is ideal for any part of your face, neck and décolleté with skin redness, telangiectasia (tiny veins) or brown spots. Light (low contrast) brown spots, which were previously difficult to resolve, respond very well to treatment.
What does the treatment do?
By selecting Program A, B or C, your practitioner can customize your LimeLight Facial to your skin type and selectively treat the brown and/or red pigmented areas on your skin. It's the heating of the pigmented brown or red cells that causes the therapeutic effect.
What do treatments feel like?
When the pulse of light is delivered, patients will experience a mild pinching or stinging sensation. Gel is recommended to cool the skin before vascular treatments. Anesthesia or pain medicine is typically not required.
How long will the treatments take?
Treatment time depends on the area of the body being treated. However, most treatments should take less than one hour.
How many treatments will I need?
One to three treatments are usually sufficient to see results. Additional treatments may be recommended, especially for excessively sun damaged skin.