Laser Skin Tightening with Titan®
Oasis Plastic Surgery owns the Cutera Xeo Laser Platform, the most versatile laser and light technologies on the market today, to address virtually every patient's needs.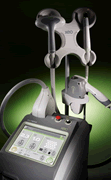 3D Skin Rejuvenation using a combination of TITAN®, Laser Genesis™ and LimeLight™
Skin Resurfacing with Pearl™
Skin Tightening with Titan®
Facial and Leg Veins with LimeLight™ and CoolGlide Excel® Vascular
Laser LimeLight™ Facial
Hair Removal with ProWave 770™ and CoolGlide®
Skin Tightening with Titan®

The Cutera Titan® gives you an all-natural option to enhance skin tone. Titan uses light energy to heat the dermis deep beneath your skin's surface. Without surgery, recovery time, or injections, Titan is an ideal solution for your face, abdomen, arms and more.
How does the Cutera Titan work?
Titan uses a safe infrared light to heat the dermis well below the skin's surface. During the procedure, the skin's surface (epidermis) is protected through continuous cooling with the Titan handpiece.
The Titan difference
Titan's light-based platform provides a more uniform distribution of energy for heating the deep dermis than other energy sources, such as RF (radio-frequency).
Who can be treated?
Since the Titan procedure heats tissue under the skin's surface, patients of any skin type or age can be treated. Dr Geoghegan can advise you if the Titan is right for you.