Clarisonic Skin Cleansing System
Clarisonic Pro Sonic Skin Cleansing System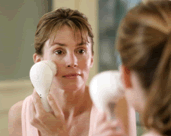 Clarisonic is the sonic technology proven to gently yet effectively loosen dirt and oil to clear your pores. The Clarisonic Cleansing System uses a patented sonic frequency of more than 300 movements per second to clean, soften and smooth your skin. In just 60 seconds a day, the Clarisonic micro-massage action cleans more than twice as effectively as manual cleansing.  The Clarisonic Pro system is only available from your skin care professional, visit our office to purchase one for yourself, they also make a great gifts!
Clarisonic Sonic Cleansing Benefits
Removes six times more makeup than manual cleansing
Leaves skin feeling and looking smoother
Cleanses so well that skin care products absorb better
Gentle enough for twice daily use
Helps reduce oily areas, dry skin patches and blemishes
Helps reduce the appearance of visible pores
Reduces the appearance of fine lines and wrinkles
Kit Includes
Cordless Clarisonic Pro with four speeds
Charging Cradle (120v)
Sensitive Brush Head
1 oz. trial sizes of Refreshing Gel Cleanser, Gentle Hydro Cleanser and Nourishing Care Cleanser
Clarisonic Pink Makes a Difference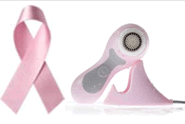 Clarisonic is proud to support breast cancer research. With every Pink Clarisonic purchased, a donation is made to help fund the fight against breast cancer. Thanks for your support in making this happen!