Obagi-C Rx System
Product Overview Page
Obagi Nu-Derm / Condition & Enhance System
Obagi-C Rx System
Professional-C Serums
Obagi CLENZIderm M.D.
Obagi ELASTIderm Eye Treatment
Obagi ELASTIderm Décolletage
The Obagi-C® Rx System: For Early Intervention of Younger Skin
The patented Obagi-C® Rx System is a complete skincare program that proactively corrects early signs of damage to help restore and maintain your healthy, youthful skin. It's the first and only system offering the benefits of both prescription-strength hydroquinone and potent vitamin C in one comprehensive package. So you don't have to spend time and money piecing together the components you need to ensure your young skin stays that way.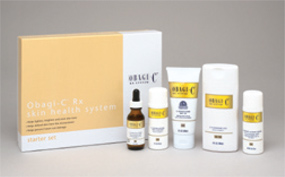 Prescription-strength 4% Hydroquinone:
Corrects mild to moderate hyperpigmentation (discoloration)
Restores balance to lackluster skin caused by the early signs of sun damage
Potent vitamin C:
Actively and deeply penetrates all layers of the skin (dermis, epidermis and stratum corneum) to neutralize and protect against free radicals such as sun and smoke, which are environmental stressors that accelerate the visible signs of the aging process
The comprehensive system includes a Cleansing Gel, Clarifying Serum, Exfoliating Day Lotion, SunGuard, and C-Therapy Night Cream with vitamins C & E. The elements of this treatment are easily incorporated into your morning and evening skincare regimen, as shown below.
C-Cleansing Gel
C-Clarifying Serum
C-Exfoliating Day Lotion
C-SunGuard SPF 30
C-Cleansing Gel
C-Therapy Night Cream

Prepares and conditions skin to optimize penetration of the system

Enhances skin clarity

First and only 4% hydroquinone + vitamin C serum with L-ascorbic acid vitamin C

Penetrates the dermal layers to reduce melanosome activity while promoting more even skin tone and providing potent antioxidant therapy

Exfoliates the stratum corneum to enhance penetration of active ingredients

Brightens and smoothes skin

Antioxidant activity neutralizes free radicals and prevents future damage

Prevents premature aging from UVA/ UVB radiation

Protects skin radiance

Conditions and prepares skin for better penetration of entire system

Removes makeup, excess oil and impurities

Enhances skin clarity

Optimizes natural renewal cycle of the skin at night

Reduces irregular melanosome activity while providing potent antioxidant therapy with vitamins C and E