Latisse
On your mark … Get Set … Grow … Longer, Fuller, Darker Eyelashes!
Get ready for a new innovation in lashes.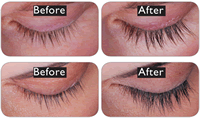 LATISSE™ (bimatoprost ophthalmic solution) 0.03% is the first and only prescription treatment approved by the FDA for inadequate or not having enough eyelashes, growing them longer, fuller and darker.
LATISSE™ works effectively.
LATISSE™ makes lash growth possible because of its active ingredient: bimatoprost. Although the precise mechanism of action is not known, research suggests that the growth of eyelashes occurs by increasing the percent of hairs in, and the duration of, the anagen (or growth) phase. Lashes can grow longer, thicker and darker because bimatoprost can also prolong this growth phase.
Clinically proven results you can see over time.
LATISSE™ is easy to use, FDA approved and effective. It's a once-a-day treatment you apply topically to the base of your upper eyelashes. Patients in a clinical trial saw results gradually over time (starting at 4 weeks with full results after 16 weeks). Great eyelashes don't just happen overnight. That's why it's important to note that LATISSE™ (bimatoprost ophthalmic solution) 0.03% works gradually and remarkably – starting at 4 weeks with full results after 16 weeks. Once you begin treatment, you could start to see results in as little as 4 weeks, but you must continue applying the topical treatment each night and follow the directions for best results. Remember results are gradual over time. In the clinical study, 78% had a significant increase in overall eyelash prominence (including elements of length, fullness, and darkness) at week 16.
Your eyelashes will experience real measurable growth.
LATISSE™ works from the inside out. As the treatment progresses, you'll begin to see changes in length, thickness and darkness gradually. After week 16, you'll see the full effect of LATISSE™ – and so will others.
There are possible side effects.
Throughout clinical trials, some users did experience itchy eyes and eye redness. However, some users found that these irritations went away once they became accustomed to the product or began applying it properly. As with any prescription treatment, always consult with your doctor for information and proper usage of LATISSE™ solution.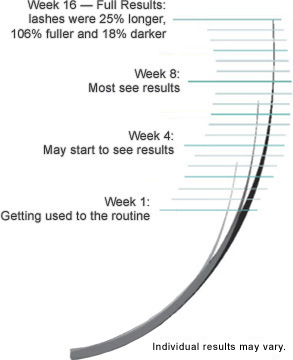 For more information you may visit www.latisse.com.