Obagi Nu-Derm / Condition & Enhance System
Product Overview Page
Obagi Nu-Derm / Condition & Enhance System
Obagi-C Rx System
Professional-C Serums
Obagi CLENZIderm M.D.
Obagi ELASTIderm Eye Treatment
Obagi ELASTIderm Décolletage
ELASTIderm™ Décolletage System: For your Neck and Chest
A one of a kind therapy that works to restore the skin on the chest and neck.
While much attention has been focused on minimizing aging on the face, many women have neglected the delicate skin on their décolletage.  The ELASTIderm Décolletage System is a unique solution for the aging décolletage. It has been specifically designed to give you the tools to rejuvenate the natural extension of your overall look with a chest and neck treatment made just for you.
Sun exposure and the normal aging process contribute not only to hyperpigmentation, age spots and freckles on the décolletage–but also to the loss of elastin, which results in fine lines and wrinkles.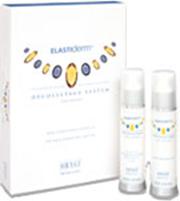 Skin Lightening Complex
Clinically proven to diminish hyperpigmentation
Formulated with a 4% hydroquinone base to reduce blemishes and hyperpigmentation due to skin conditions such as chloasma, freckles and senile lentigines
Wrinkle Reducing Lotion
Clinically proven to help restore elasticity and reduce fine lines and wrinkles
Formulated with proprietary Restorative Elasticity Complex that contains:
A unique bi-mineral complex containing copper and zinc that's clinically proven to help replenish elasticity and build collagen
Malonic acid to help stimulate the production of healthy skin cells
Penetrating TherapeuticsTM to drive ingredients deep into the skin
The ELASTIderm Décolletage System was specifically designed for the delicate décolletage area, which tends to be more sensitive, while still having the efficacy to achieve visible results.