Skin Medica Skin Care Products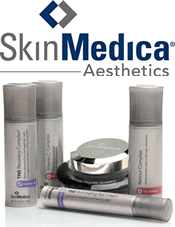 SkinMedica's innovative line of professional skin care products are the result of almost two decades of skin care research and clinical experience. Their product philosophy emphasizes a multi-factorial approach to enhance skin appearance and reduce the signs of aging. This approach encompasses the need for interaction of a complex system of key ingredients to bring about optimal clinical benefit in the shortest period of time.
Ingredients such as growth factors, antioxidants, retinoids, essential fatty acids, and hyaluronic acid as well as other molecules naturally found in skin have been thoughtfully chosen and incorporated to provide all of the elements necessary for enhancing the natural process of skin rejuvenation. Products are separated into Anti Aging, Moisturizers, Eye, Cleanse & Tone, and Sun Protection. Our Licensed Medical Aesthetician will help build your skin care regiment based upon your skin type Normal-Oily, Normal-Dry, Dry, or Acne-Prone. For more information about the SkinMedica products, please click on the links below.

Anti Aging:

SkinMedica's clinically tested anti aging skin care formulas provide vital components necessary to the skin to help improve damage caused by sun, environmental assaults and aging. Some of the most popular anti aging formulations are the TNS Essential Serum™, TNS Recovery Complex®, TNS Dermal Repair Cream and Vitamin C Complex.
Each of SkinMedica's moisturizers deliberately combine ingredients that work on specific skin types to help properly restore hydration and revitalize skin tone and texture. The most popular of the moisturizers we sell are the TNS Ultimate Daily Moisturizer + SPF20, TNS Ceramide Treatment Cream, Hydrating Complex and the Ultra Sheer Moisturizer.
SkinMedica's elegant eye products are formulated to work effectively on the delicate tissue around the eyes to enhance skin appearance and reduce the various signs of aging. The most popular eye products are the TNS Night Eye Repair™ and the TNS Illuminating Eye Cream®.
SkinMedica's gentle, non-irritating daily cleansers and toners purge skin of dirt, makeup, and environmental pollutants without damaging your skin's natural moisture balance, helping to achieve optimal results from other treatments. The most popular cleansing and toning products are Facial Cleanser, the Sensitive Skin Cleanser and Skin Polisher.
SkinMedica's Sun Protection line provides full-spectrum protection and hydration to aid in fending off sun damage and the signs of aging. The two products for sun protection are Environmental Defense Sunscreen™ SPF 30+ and TNS Ultimate Daily Moisturizer +SPF 20.